Here are the  Top 10 Best Selling Communities in Mesquite Nevada for the last 90 days (March 11,2009 to June 9, 2009). There were a total of 90 sales recorded in the Mesquite MLS by local Mesquite Realtors. These are currently the top selling communities in Mesquite NV:
1. Villa La Paz Homes.  6 Sales.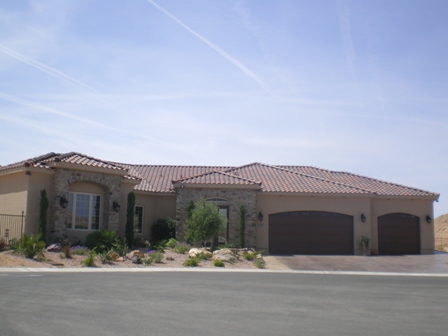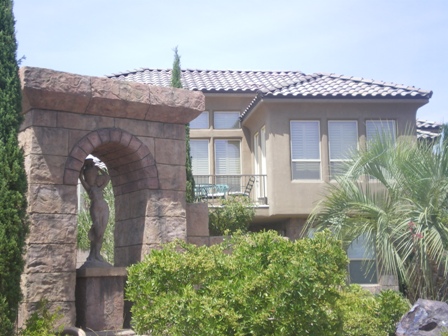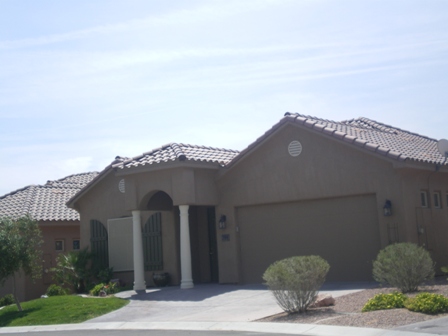 This single family home community sits on the north side of Mesquite Nevada. Some homes sit on the Falcon Ridge Golf Course while others have beautiful elevated lots looking over Mesquite. This community is in a homeowners owners association (HOA). There are approximately 125 home sites in this Mesquite Community of Villa la Paz. This community still has homes under construction. Villa La Paz reported 6 sales in the last 90 days. These sales were from from $182,500 to $735,000. The Average price was $421,808 and the average size home was from 1,446sq.ft. to 3,264sq.ft. The average price per square foot for these 6 sales for Villa la Paz in Mesquite NV was $188sq.ft.
2. Sun City Mesquite Homes. 5 Sales.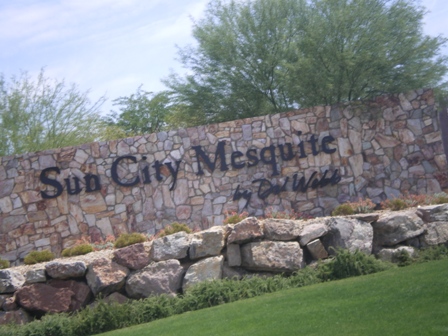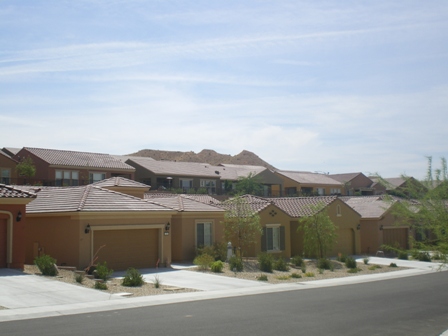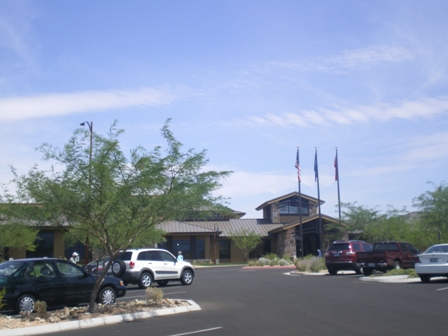 This Community sits in the north west area of Mesquite Nevada and is expected to have about 3,700 homes and is in an HOA. This community of Sun City Mesquite most likely had more sales, these 5 sales were reported by Realtors that belong to the Mesquite MLS and were most likely clients of theirs. This is an Active Adult Community and requires at least one resident to be age 50+. The sales reported may be new or resale Sun City Mesquite homes as this community is still under construction with between 500-600 homes currently built. These homes range in size from 1,241sq.ft to 1,670sq.ft. Prices ranged from $191,490 to $248,915. The average price reported was $223,747. The average price per square foot on these Sun City Mesquite Homes in Mesquite NV was $147sq.ft
3. Sunset Greens Townhomes. 5 Sales.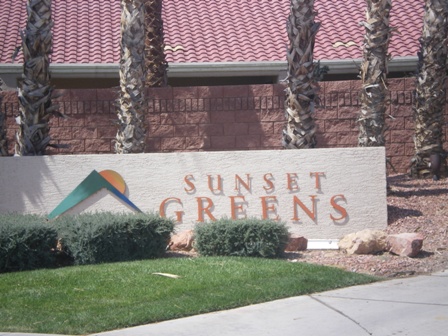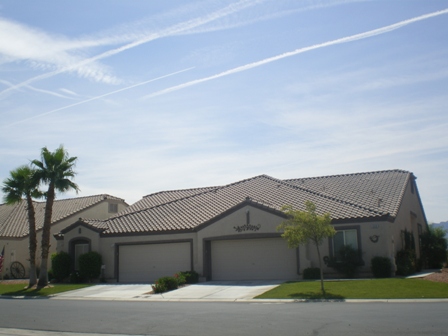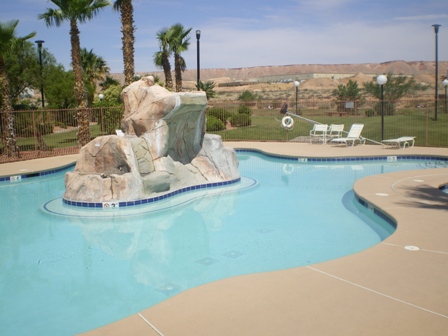 Sunset Green sit south of Interstate 15 on the west side of Mesquite Nevada. Sunset Greens is a gated golf course community maintained by an HOA. It has 2 swimming pools and on-site RV parking. This community is know for it's beautiful palm trees and lush landscaping. The CasaBlanca Golf Course surrounds this community. There are about 700 homes and townhomes in Sunset Greens with the vast majority consisting of attached single level townhomes. These southwest Nevada townhomes range in size from 1,241sq.ft. to 1,690sq.ft. The sale price on these sales ranged from $155,000 to $225,000. The average price per square foot for a Sunset Greens Mesquite Nevada townhome end up at $127sq.ft.
4. Rock Springs Condos. 5 Sales.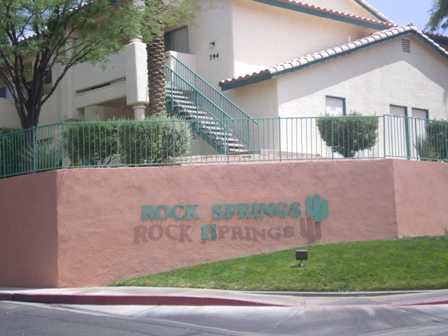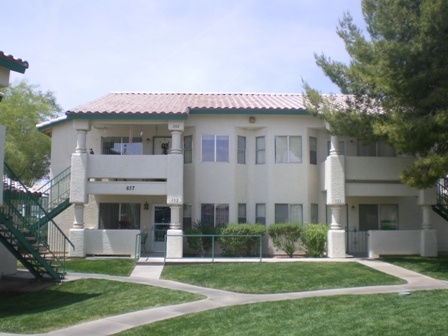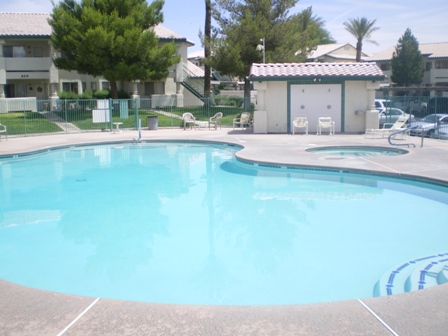 These Mesquite NV condos sit on the east side of Mesquite Nevada just north of Interstate 15 and just above the Eureka Casino. There are just over 500 condos which encompass Rock Springs 1 and Rock Springs 2. Each is managed by its own HOA and have nice swimming pools and common areas.  These Mesquite Condos make great second homes and can also be used as investment property. These condominiums are like a 4 plex with 2 units above and 2 below. They have 2 floor plans, one is 996sq.ft and the other is 1192sq.ft. The recent sold prices for these condos were from $90,000 to $118,500. The average price per square foot for the recently sold Rock Springs Condo in Mesquite NV was $98sq.ft.
5. Trailside Homes. 4 Sales.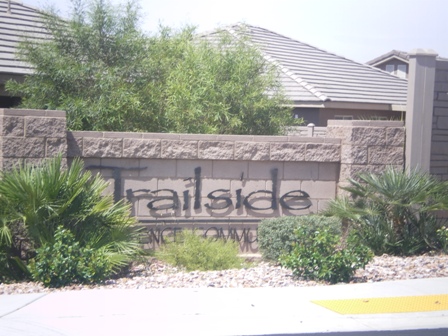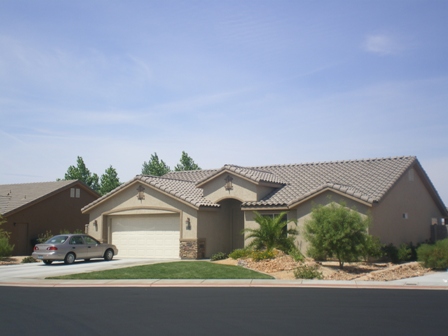 This single family home community is located on the south side of Mesquite near Hughes Middle School. These home are well built by Ence Homes. Ence Homes has built many communities in Mesquite NV and are know for there high Energy Star rating. Trailside Homes by Ence Homes have 66  home sites and are over half way completed. Some of these sales may consist of  resale  and new homes. These sold Trailside homes in Mesquite NV range from 1,102sq.ft. to 2,012sq.ft with the average size of 1,587sq.ft. The prices ranged from $174,422 to $235,000. The average price per square foot for a Trailside by Ence Homes in Mesquite Nevada was $129sq.ft.
6. Vista Del Monte Homes. 4 Sold.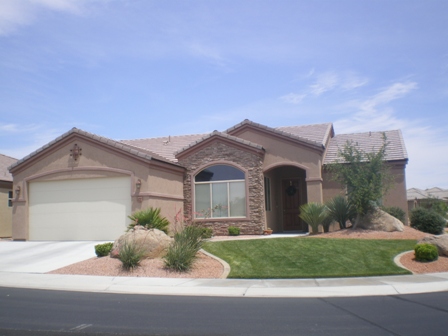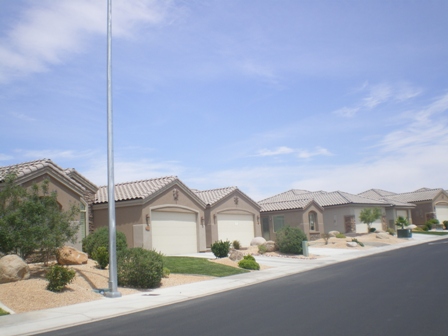 This community is located in the far northeast of Mesquite. It is near the current Mesquite airport and some properties sit on the border of Arizona. Vista Del Monte in Mesquite NV has about 147 homes. This area is a gated golf course community. The Oasis Golf Club has the front 9 holes of the Canyons Golf Course that weaves its way through this community. This area sits up high on a hill and has some terrific views of the Virgin Valley below. The majority of these homes were built by Ence homes. The recent sales in Vista Del Monte by Ence Homes range from $213,000 to $310,000. The size of this homes is from 1,419sq.ft. to 2,165sq.ft. the average size was 1,825sq.ft. The average price for a home in Vista del Monte Mesquite NV was $258,250 and that makes it $142 sq.ft.
7. Riverside Meadows Homes. 3 Sales.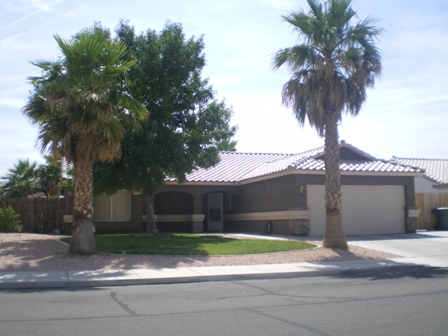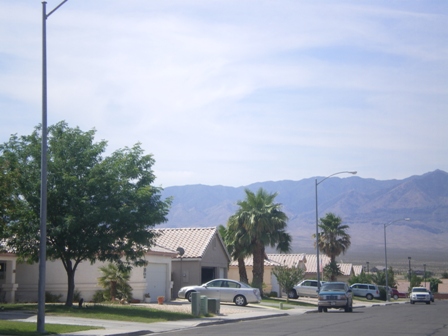 These single family homes are located on the South side of Mesquite off of Riverside Rd. Their are 70 single family homes in this community and  have no HOA dues. Many have RV parking and within close proximity to shopping. These are a bit older for the Mesquite NV area, with most homes built between 1996 to 2000. These homes Riverside Meadows  that sold were from 1,246sq.ft. to 1,792sq.ft. and prices were from $158,000 to $200,000. The average price per square foot for  Riverside Meadows Homes was $113sq.ft.
8. Mesa Townhomes. 3 sales.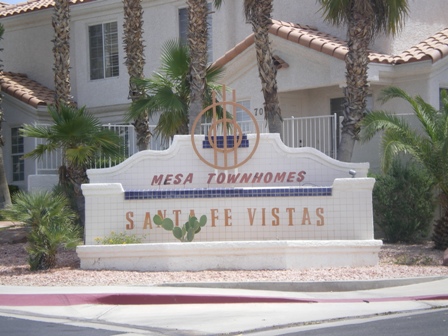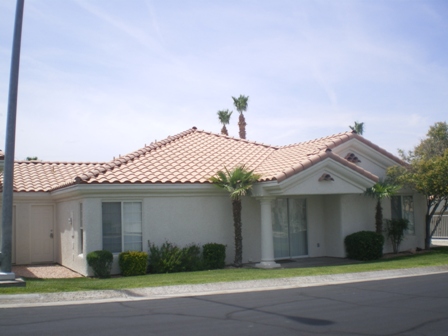 Mesa townhomes are located on the east side of Mesquite near Arizona. They are located above the Eureka Casino off of Mesa Blvd. Their are 82 of these Mesquite NV townhomes which are single level. Some units have detached garages and there are 2 swimming pools in the HOA. These townhomes are within walking distance to the Mesquite Casinos. The sales in Mesa Townhomes were from $120,001 to $174,500. The sizes were from 1,125sq.ft. to 1,382sq.ft The average price per square foot for Mesa Townhomes Mesquite NV was $118sq.ft.
9. The Classics at Paradise Canyon Condos. 3 Sales.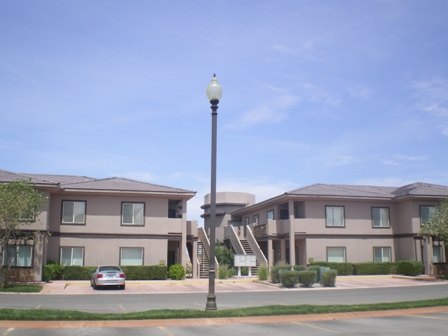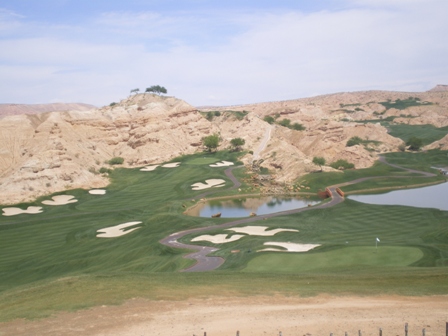 These Mesquite NV condos are located in the north east section of Mesquite NV near the Mesquite Airport. The City of Mesquite has there being about 50 condos of which not all have been built out. The Classics Condos are overlooking Wolf Creek Golf Course, which according to Golf Link is the second highest rated golf course in Nevada.  Not only do these have great views overlooking Wolf Creek Golf Course in Mesquite NV, they also are nice on the inside. The Classics condos sold for $172,900 to $215,000 and sizes ranged from 1,252sq.ft. to 1,606sq.ft. The average price per square foot for The Classics at Paradise Canyon Mesquite NV was $133
10. The Masters (Lots) 3 Sales.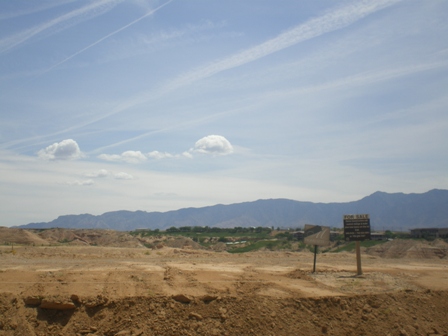 These lots are located in northern Mesquite. These 24 custom home lots have amazing views in each direction. These lots are improved and ready to build on. You can use your own builder. The Masters is a gated Golf Course community in Mesquite Nevada. The homes in this community have to meet a minimum square footage and must be approved prior to building. The Canyons Golf Course runs through area. there are only a few homes that have been completed in this Mesquite neighborhood. The Masters in Mesquite NV lots sold for $100,000, $112,500 and $125,000.
This Article was written by the Mesquite Real Estate Team of Bowler Realty. Find Mesquite NV Homes for Sale. Bowler Realty is licensed to sell real estate in Nevada and Arizona.