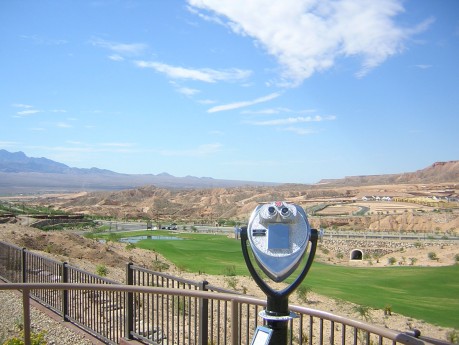 In Febuary 2009 Desert Valley Times reported that Desert Falls International Sports Resorts is going to be build a $500 Million 920 acre sports resort, with completion targeted by 2014. Wtih some tournaments that could begin as soon as 2010 in the facility. It is being billed as "The Premier location for amateur sports in the United States". This will be at least partially funded by the shoe and athletic brand Adidas. It will be located in Mesquite NV on the Regional Park land between the Mesa View Regional Hospital and our newly completed World Long Drive golf/recreation venue.
The Mesquite City Council has managed to keep this quiet until it was released to the general public in February. According to plans this will bring Mesquite approximately 500 new jobs. Amenities include:
Adidas facilities – offices, deluxe restaurants, training facilities (two Olympic-sized pools, two Olympic-sized diving platforms, and private workout center)
Six flex basketball/volleyball courts
Indoor track
Therapy center (massage, saunas, spas)
Sports medicine facility
Nutrition center
12 sand beach volley courts with stadium seating for 300-400
15,000 seat softball facility with natural turf, Softball Hall of Fame, Sports Memorabilia Center
Softball complex with four five-flex diamonds, concession stands, announcers booth, and day-care center
24 field soccer complex with 400-500 seat soccer stadium
16 court tennis facility plus 300-400 seat tennis stadium and pickle ball courts
ANOTHER GOLF COURSE!
Football stadium with seating for 3000-5000, with separate track and field area
Indoor football/soccer/lacrosse stadium with artificial turf and seating for 3000-5000
Water park with lazy river
Resort hotel and athletes village
Open-air street mall
The developers are working with over 80 sports organizers to hold events at the new location. The facility will host over 30 different sporting events, from Olympic archery to beach volleyball. They are also looking at putting in training facilities for professional athletes. This state of the art facility will host events ranging from youth sports to seniors.