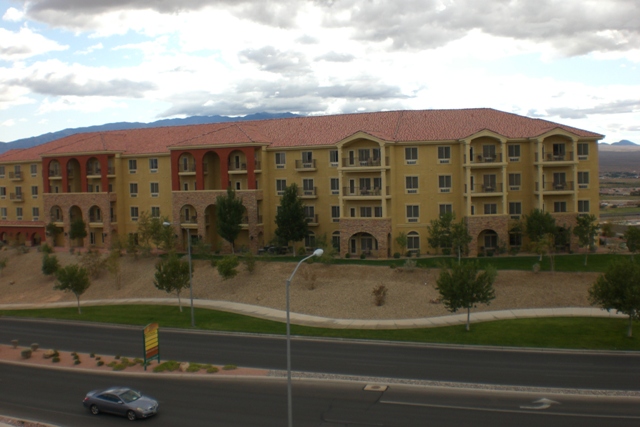 Mesquite NV hotels are going to be reviewed. Please note  "peak" season is always fall and spring and rates may be higher at that time. We are always happy to have people "stay and play." At peak time of year we start seeing increased traffic and people staying here, we have compiled a list of Mesquite Nevada hotels for you convenience in scheduling at time to come for a visit.
So which Mesquite Nevada hotel is right for you… I guess it depends on how long you stay and why you are visiting Mesquite NV. This may help you decide which hotel is right for you!
We give you the direct numbers to save you paying extra commissions at other websites! Here we go with the review Mesquite NV hotels.
1. CasaBlanca Resort and Spa (3½ stars). Call them direct at  702-346-7529.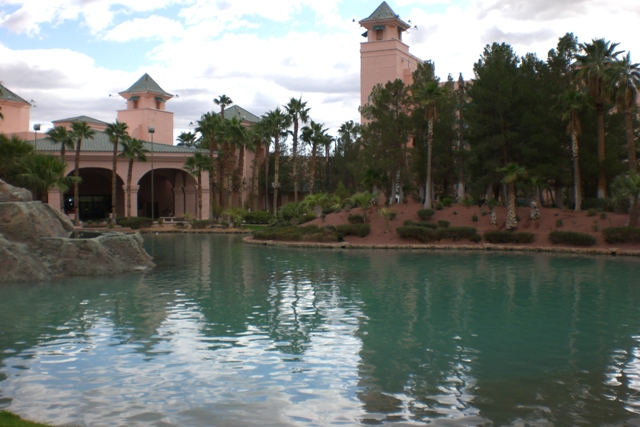 The Casablanca Hotel tops the list in this review Mesquite NV hotels and is a popular choice due to  all inclusive gaming, dining, spa and other entertainment. CasaBlanca Hotel offers many varieties of gaming.  Catherine's Restaurant is one of the finest restaurants in Mesquite. They also have a buffet and another less formal restaurant called The Purple Fez.
CasaBlanca hotel also has a beautiful swimming pool and outdoor tennis facilities. Inside they have a small store/gift shop and ice cream parlor. For those need to loosen up they have a health resort spa.
2. Falcon Ridge Hotel (3 Stars). Call them direct at 702-346-2200.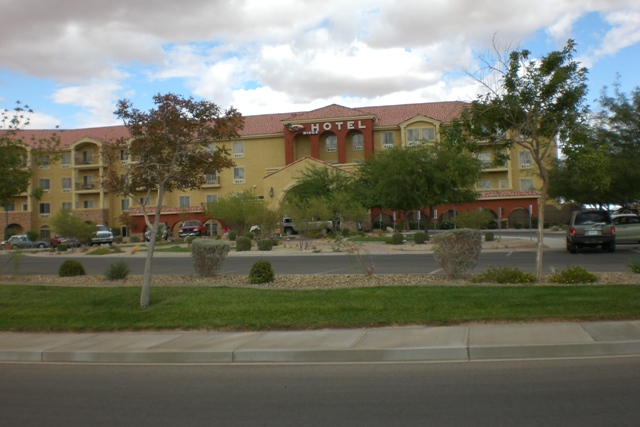 The Falcon Ridge Hotel is not connected or affiliated with any casino. This is well maintained and ranks high with us in this review Mesquite NV hotels. It is within walking distance to WalMart, Sushi-Masa, Baskin Robins, and many other stores near Falcon Ridge Parkway. This is one of the newest hotels in Mesquite Nevada. Here they offer a full hot breakfast buffet daily. A state of the art fitness room and guest laundry facilities are available. Jacuzzi suites and one bedroom suites available.  It also has a heated pool and hot tub. The Falcon Ridge Hotel can cater to  small conventions and has audio visual services. Many also love the Falcon Ridge Hotel because it has pet friendly rooms. We have many clients that consider the Falcon Ridge Hotel the best Mesquite Nevada hotel.
The Springs Condominium Resort (3 Stars). Call direct at 702-346-3637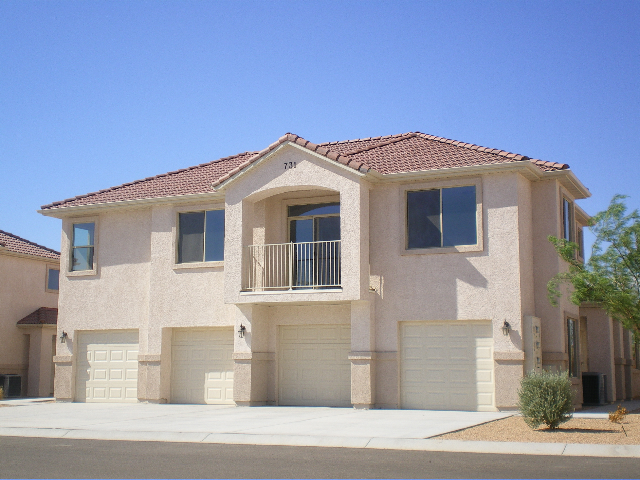 The Springs Condo Resort does very well with golf groups, and weekly rentals as compared to other Mesquite Nevada Hotels. The Springs Condos are 2 and 3 bedroom units that have kitchens and 1 and 2 car garages. These condos allow for daily, weekly or even monthly rentals. This is a great alternative to the traditional hotels for those that plan on spending a bit more time in the Mesquite Nevada area.  The Springs has a pool and hot tub on site as well as other picnic areas. It is not far from the CasaBlanca Resort and Casino, McDonald's and other stores. So longer term rental this is a good choice in our review Mesquite NV hotels.
Eureka Casino Hotel (2½ Stars). Call them direct at 702-346-4600.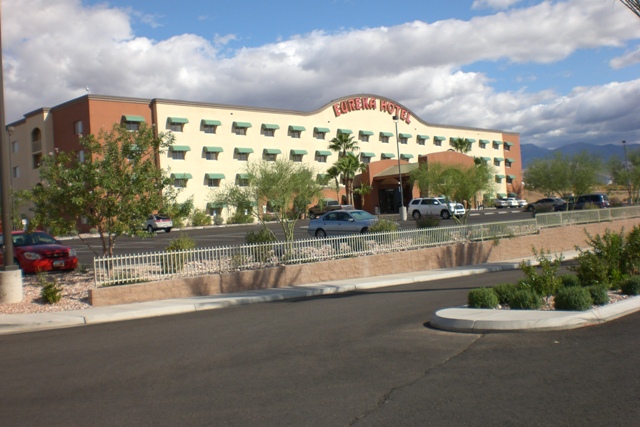 The Eureka Hotel is located adjacent to the Eureka Casino. Here you will aslo find gaming, dining, and entertainment. Gregory's Steak and Spirits is the fine dining establishment that is within the Eureka Casino. You will also find the Tumble Weed Cafe (24 hour dining) and the Experience Buffet. In the Casino you will find table games, Bingo and a Poker Room. For the record I feel this is a good choice to stay at in our review Mesquite NV hotels.
This Mesquite Nevada Hotel has been renovated in the last 2 years. It has a pool and hot tub area.There are also two bedroom suites available as well as Suites with Roman Jacuzzi tubs which they call Jacuzzi Spa suites.  It is within close proximity to Wold Creek Golf Course and the Oasis Golf Course. It is also across the street from the Virgin River Casino and Hotel, which is another of the Mesquite Nevada Hotels.
Virgin River Hotel and Casino (2 Stars). Call direct at 702-346-7777.
The Virgin River Hotel is generally one of the most inexpensive rooms in Mesquite. These rooms are near the Virgin River Casino, which has gaming, restaurant, buffet, bowling, bingo, sports book, and entertainment. Here you will find the Chuck Wagon restaurant known for the $5.99 prime rib. On the weekends this is the only one of the Mesquite Nevada Hotels that you will find live music and country swing dancing!
The rooms are older, but sufficient for many. The prices are many times the lowest you will find in Mesquite Nevada. It is close proximity also to the Wolf Creek Golf Course and The Oasis Golf Course. As we review Mesquite NV hotels, if low price is your thing. This is a good choice.
Best Western Mesquite Inn (Not Rated). Call directly at 702-3467444.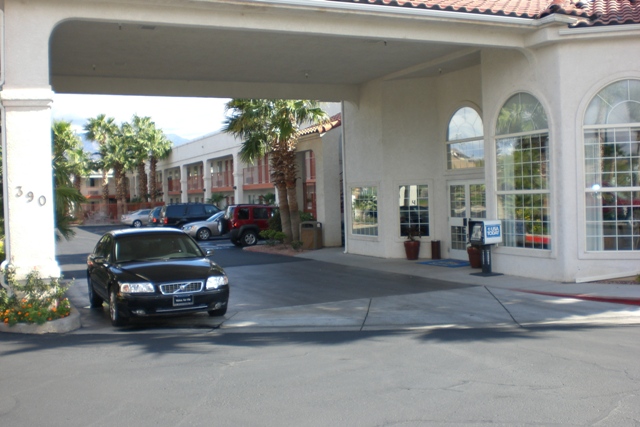 The Best Western Mesquite Inn has 66 rooms and is located close to  Mesquite City Hall and many of the shopping and commercial stores. Best Western is great for the frequent traveler to take advantage of the rewards and different promotions that they offer. This is one of the few Mesquite Nevada Hotels that is linked with other hotels nationwide that cater to the business traveler.  The rooms do come with a complimentary continental breakfast. There are senior, corporate and government discounts available. In the review Mesquite NV Hotels this is a good option, not affiliated with a casino.
Highland Estates Hotel (Not Rated). Call direct 702-346-0871.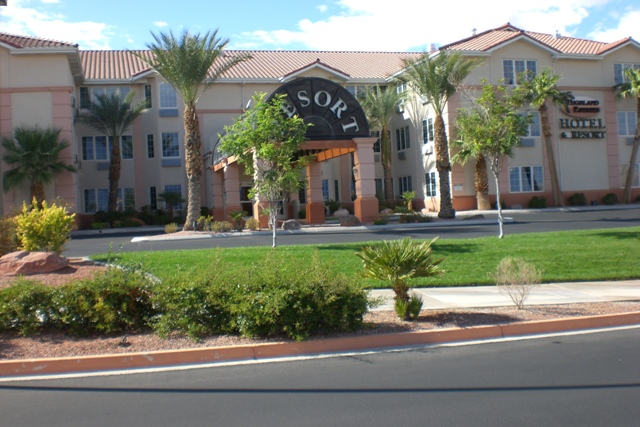 Highland Estates Hotel is a favorite for some of our clients. For those that have been to Mesquite and have stayed at many of the above mentioned hotels  and not found exactly what they wanted or expected… you should try Highland Estates Hotel. It has a nice Italian restaurant on the first floor called Hugo's. Available are 1 and 2 bedrooms suites. There are 2 pools here for guest to choose from. As we review Mesquite NV hotels, this is another good option that can be long term.
NOTE: Hotel Ratings are from Expedia.com
There are a few other motels in Mesquite that we have not covered. This is because we have not had much feedback from clients staying at them. the other reason is that this is titled "Mesquite Nevada Hotels." If you have any feed back on Mesquite Nevada hotels please leave us a comment.
Find homes for sale in Mesquite Nevada
This article was written by Brandon Park of the Mesquite Real Estate Team from Bowler Realty of  Mesquite Nevada. Bowler Realty is a licensed real estate brokerage in Nevada and Arizona.  Thanks to those that gave us feed back on their favorite Mesquite Nevada Hotels! Thanks for viewing our review Mesquite NV hotels blog.