Every 6 months we like to do a check on the Mesquite real estate market by doing a property value comparison. We look at the Active Listings, Expired Listings and Sold Listings from the Mesquite MLS.  We discovered that the average sale price of Closed Listings is down about 17% from this time 1 year ago.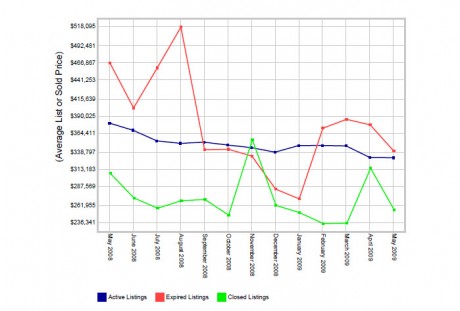 This property comparison graph  is shows the average price of active, expired and sold listings from May 2008 to May 2009. The Green line shows the average price of homes sold in each month. It is typical to see our more expensive homes sold in the spring and fall as that is the peak seasons for Mesquite Real Estate (and also for golfing). The Blue line shows the average price home owners have their property listed for. This as you can see steadily has declined over the last year. The red line is not important as the average price of expired listings is all over the place.
Here are the details from this evaluation:
The Sold Sale Price for Closed Listings is the main indicator to what is happening with house sales in Mesquite NV. Looking at snapshot of  May 2008 compared to May 2009 we see that the main story is that average home sales dropped from $307,616 to $255,931 and similarly the median home price for Mesquite Nevada homes dropped from $260,000 to 215,000. The average  and median both decreased by 17%.
The minimum single family home price last year at this time was just under $200,000. Currently the lowest single family home prices are under $100,000.  The Minimum price was $206,000 and currently is 74,900. This is a difference of $131,100 and  a 64% decrease. The Maximum sales stayed relatively the same at $875,000 to $899,000 currently.
Listings Price for Current Active Listings also helps us to see trend in the Mesquite Real Estate market. The number of homes for sale in Mesquite remains the same as last year with a total of 226 single family homes listed.
From May 2008 to May 2009 we see the average list price (asking price) was $378,985. It is currently $330,099, down 13% from last year. The median home price echos this trend. The median Mesquite home price was $299,900 and is now $264,950, down 12%. Sellers on average are asking 12 to 13 percent less for their homes than they did one year ago.
The minimum price in May 2008 was $125,000. In May 2009 the lowest listed home was $88,900, which is $36,100 less and 29% less. The maximum list price during this same period was $2,399,999 and currently the maximum listing is $1,550,000, down 35%.
Expired Listings can also help  but sometimes are not very relevant. What we found most interesting, that does help us understand Mesquite real estate, was to view the minimum prices for these expired listings. In May 2008 the minimum price of an expired listings was $174,900. In May 2009 that number was $129,900.  The numbers  gradually decreased over the year and even the expired listings have dropped 25%!
Our evaluation of  Mesquite Real Estate
We can see from this data from the Mesquite Real Estate Association and Mesquite MLS that prices have come down over the last year about 17%. We have seen a large number of investors and first time home buyers purchasing Mesquite NV homes. Sales are up while sales prices are down. This news is not welcoming to home owners who saw home values double from 2001 to 2005. Foreclosure and Short sales are still common as the Mesquite real estate market tries to recover.
For those that are looking to buy a home to live in for a few years and weather out this economic storm, Mesquite NV is the perfect location to do this. Mesquite NV homes are very desirable and can now be purchased for much less than years ago. The climate, friendly people, no traffic,  small town feel and many state and national parks nearby make this a great place to call home.
Written by the Mesquite Real Estate Team from Bowler Realty in Mesquite NV.