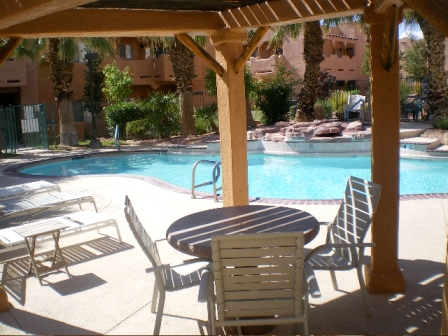 Mesquite Vistas is a master planned area that encompasses many smaller home owners associations (HOA's). This master planned area is located in Mesquite NV on the the northern side of Interstate 15. Home owners in the Mesquite Vistas area pay monthly fees to pay for ground maintenance and for the use and maintenance of the Oasis Golf County Club located adjacent to the Oasis Golf Club.
As members of the Mesquite Vistas all homeowners can use the swimming pool and spa, tennis courts, workout room, or host an event in the Oasis Golf County Club. It is located on the corner of Oasis Blvd and Palmer Ln. This is shared among various NV communities.
Fees for Mesquite Vistas as of 2010 are $36 per month. These fees go toward items such as maintaining the landscaping along the main streets that are in the Mesquite Vistas area and maintaining the Oasis Golf Country Club.  Fees also go toward insurance, taxes, audits, association administration, water, other utilities, legal and reserve accounts. Please note that the budget changes from time to time and to get association information on Mesquite Vistas contact Colonial Property Management at 702-345-2200.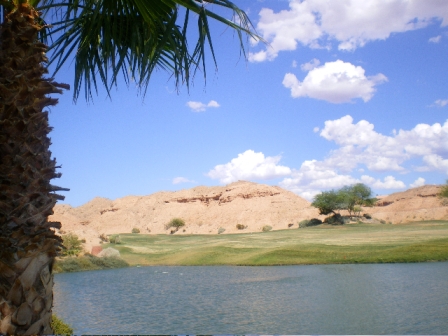 The geographical area of Mesquite Vistas sits near and around the Oasis Golf Club golf courses which are the Palmer Course and the Canyons Course. These are the NV communities that are in Mesquite Vistas:
Crystal Canyon
Eagle Point, condo
Enchantment, condo
Highland Fairways
Falls Hillside Villas (The Falls), condo
La Scala
Lake Ridge I & II
Pinnacle I & II
Rancho Santa Barbara
Sedona
Summer Crest
Summer Hills, townhomes
Summer Ridge
The Point
The Terraces
Villa La Paz
Ventana
Why pay for 2 home owners associations?
Simple, many people prefer the areas! a master association helps preserve the look and feel for the entire area and not just the single neighborhood. The streets have plants and palm trees, the roads have lighting at night and parks nearby. I have not met a person yet that likes to pay the extra fee but they do prefer the look and feel of the homes that are in these areas! Many people feel that it helps keep the values of the homes and areas up. Others feel it gives the area more character by having more open space. Either way people seem to go for it.
Many areas in Mesquite Nevada have 2 HOA's. We have talked about Mesquite Vistas, other master associations are Falcon Ridge, Canyon Crest and Mesquite Estates.
Many Mesquite Nevada residents seem to prefer living in HOA's. There are only 2 subdivisions on the north side of Interstate 15 in Mesquite that do not have HOA's or dues which are Santa Fe Vistas and Turtle Cove.
For those that disagree with home owners associations there are many areas that have no monthly dues. On the south side of Interstate 15 there are many areas that do not have HOA's or monthly dues. Others many prefer to look in Bunkerville, NV (3 miles) , or over in Scenic AZ(4 miles), or Beaver Dam AZ(8 miles).
This article about Mesquite Vistas was written by Brandon Park of the Mesquite Real Estate Team at Bowler Realty. Bowler Realty is the oldest real estate brokerage in Mesquite NV.