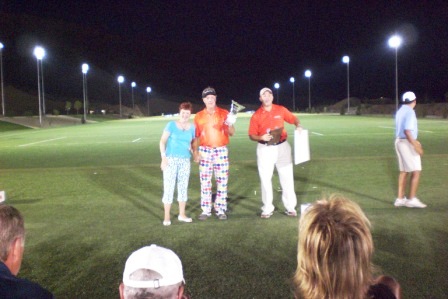 This past week The Long Drivers of America put on another great show Thursday through Sunday (August 27-30, 2009). The Desert Dual Competition and World Long Drive Regional Qualifying took place in Mesquite NV.  The winner of the open event was Jeff Gavin  who received a check for $10,000 for his effort. The senior division winner was a man that is no stranger to Long Drive winners circle Bobby Wilson. Bobby received a check for $ 3,000 dollars . Check out Bobby's wardrobe. If you're a John Daly fan now you know who designs his clothing. Bobby's clothing was almost as hot as the weather, at 113 degrees!
Those qualifying will be eligible for the Re/Max World Long Drive Competition at the end of October this year. If you miss the event it will be broadcast on ESPN on December 25, 2009. This is a Christmas tradition on ESPN. The Long Drive Competition has been held in Mesquite Nevada for many years and with the new facilities we hope it stays.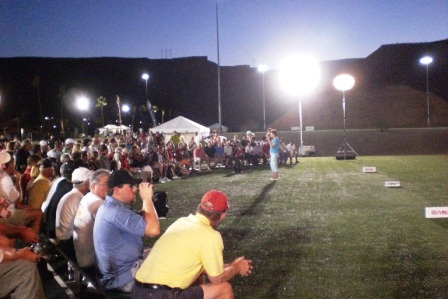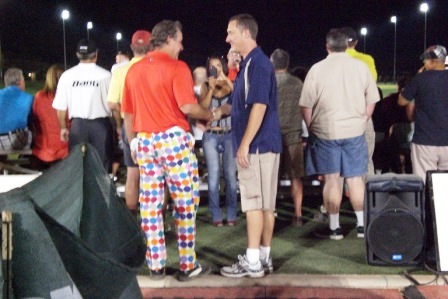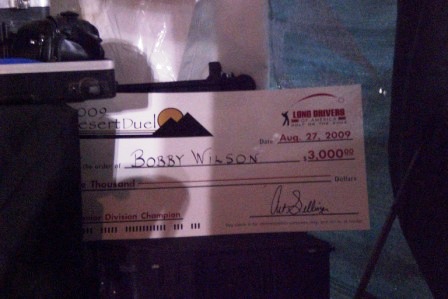 The Mesquite Chamber of Commerce held a mixer up at the new Mesquite Park prior to the evening show on Thursday. This brand new facility, situated below Flat Top Mesa was built and designed specifically to host the World Long Drive Championships and other sporting events held in the City of Mesquite. Present at the affair was Mayor Holecheck, who gave a short speech and thanked Art Sellinger ( CEO) and owner of The World Long Drive Competition for choosing the City of Mesquite Nevada as the home of the Re/Max World Long Drive Competition.
The World Long Drive Finals will be held in Mesquite Nevada the 25th through the 30th of October 2009. With plenty of room in the grand stands and some very entertaining competitors we hope you will join the friendly people of Mesquite in welcoming the Long Drive competitors to Mesquite NV. Last years opening night performance was an unbelievable experience and I hope you are here to see it this year
Article written by Chirs Schaeffel, 5 year volunteer of the World Long Drive  and member of  the Mesquite Real Estate Team from Bowler Realty. Bowler Realty is licensesd to sell real estate in Arizona and Nevada.