Low priced Mesquite condos for sale.
This is what we have been wanting for YEARS!  The beauty of condominiums is that the landscaping, pool, exterior of condo, hazard insurance, and roof are all taken care of for you. This truly makes this  "turn key" living. You can come and go as often as you like, as long as you keep your association fees paid, of course.
These 17 condos are all 2 bedroom and 2 bath and some have garages. They are from 970 sq.ft. to 1288sq.ft. The communities are Enchantment, Falls Hillside Villas, Hermosa Vistas, Rock Springs 1 & 2, and The Springs.
I will do a brief overview of these Mesquite condo associations that these 17 Mesquite condos for sale are in… discussing HOA fees as well as amenities.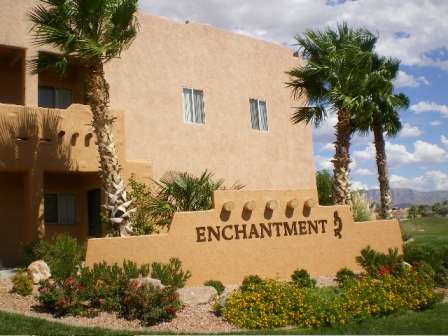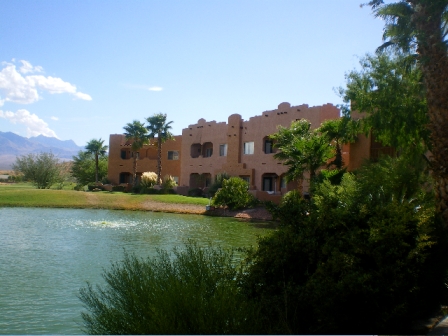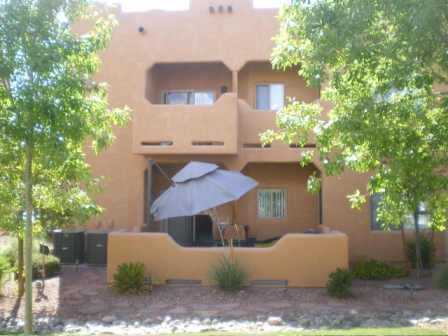 1. Enchantment Condos. (2 under 100k). These Adobe or Pueblo style condos are located in north-central Mesquite NV and have about 106 condos. They have a community swimming pool, large fountain near the entrance,  and many of the buildings sit on the Oasis Golf Course, which was designed by Arnold Palmer. Some of these condos include garages. There are 2 HOA's here. One for Enchantment Condos and the other is Mesquite Vistas. Combined they are about $200. With Mesquite Vistas HOA you do have access to another pool and club house near the Oasis Golf Course Club House. The Enchantment Condos for sale are  989 sq.ft. and 1034 sq.ft. and one has a garage, both built in 2005. Both condos are now Bank Owned and are selling for $89,900 and $95,000. Mesquite MLS # 1109579 & 1109648. (Keep in mind many others are for sale… We are only looking at "Mesquite Condos for Sale under $100,000 today)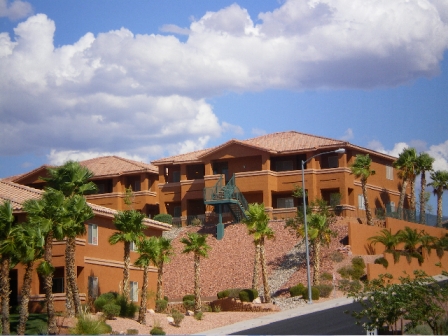 2. Falls Hillside Villas. (1 under 100k). The Falls are located on a bluff overlooking much of Mesquite. There are about 208 condos in The Falls Hillside Villas. Here there is also community pool as well as picnic and BBQ areas. Some condos have detached garages also. The landscapers do a great job here and there is plenty of green grass to enjoy. The HOA dues are $165 per month and includes the master and sub associations, trash, street, common area and landscape maintenance, building exteriors, basic cable, pool and spa. This building was recently painted, re-roofed and the decks/porch's have been replaced. There is  outstanding view of the mountains and the  Oasis Golf Course in the distance from this condo for sale. It is 970 sq.ft. and is listed for $95,000. Mesquite MLS #1109036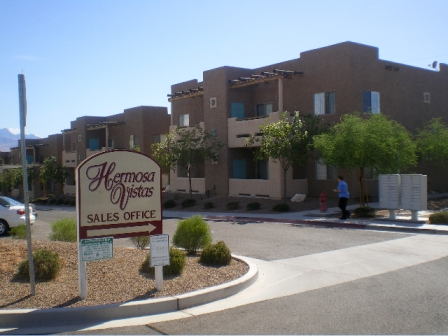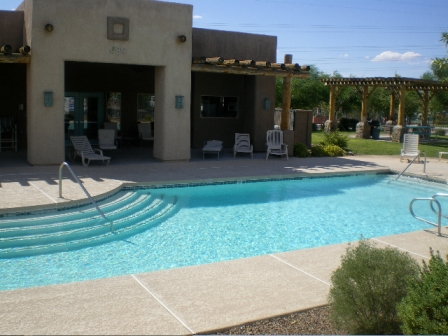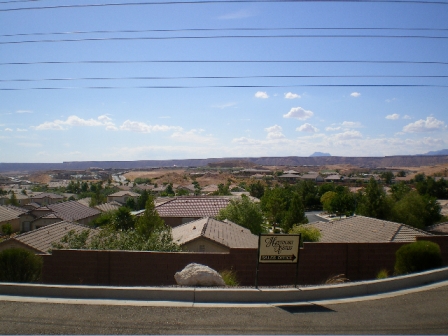 3. Hermosa Vistas. (1 under 100k) sits next to The Falls Hillside Villas and shares the same bluff and view they do. Hermosa Vistas Condos are Adobe Style and a bit bigger than most condos in Mesquite. They also have a community pool and hot tub with shaded picnic tables near by. These condos are nice because they have a large patios in front entrance and another off the master bedroom. HOA dues are $166 per month and include master & sub HOA, trash, property insurance, road maintenance, common areas, pool & hot tub, sewer, exterior building, and management   This condo is 1288 sq.ft with 2 bedrooms and 2 bathrooms, built in 2006. This condo is large compared to most due to size and has a good layout. This property is Bank Owned and is a  Mesquite Foreclosure. It is listed for $86,900. Mesquite MLS# 1109449.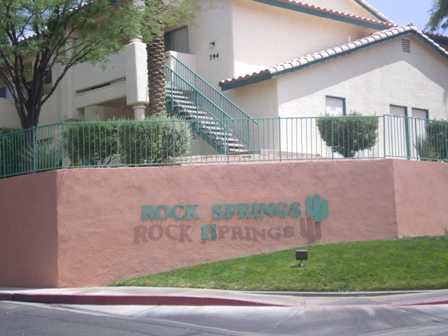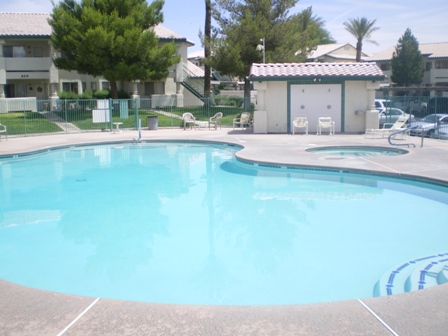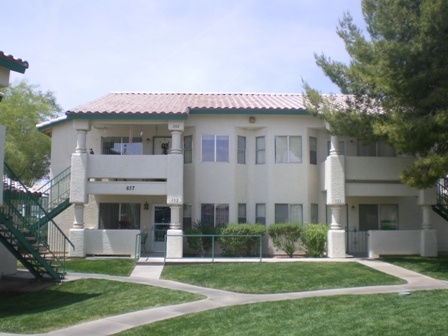 4. Rock Springs 1 & Rock Springs 2. (7 under 100k). Rock Springs 1  is located directly northeast of the Eureka Casino in Mesquite NV. Rock Springs 2 in located directly north of Rock Springs 1. These two communities combined have just over 500 condos. These are all 4-plex type buildings with 2 condos upstairs and 2 lower condos. Each Rock Springs community, here in Mesquite, has it's own pool (Rock Springs 2 has 2 pools) and hot tub. These condos were built from 1993 to 1997.     Each has a single HOA only and are about$165 per month and include basic cable T.V. included, common areas, sewer, trash, exterior building, pool & hot tub, yard maintenance and management.These Mesquite Condos for sale are from 996 sq.ft. to 1192 sq.ft. and have covered parking. Some of these are Mesquite Foreclosures. Prices range from $70,000 and up.  Mesquite MLS# 1109109, 1109672, 1109091, 1109607,  1109440, 1109464, 1109568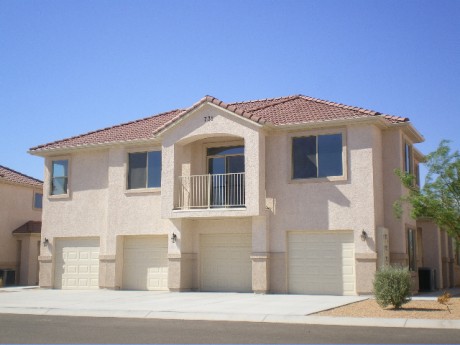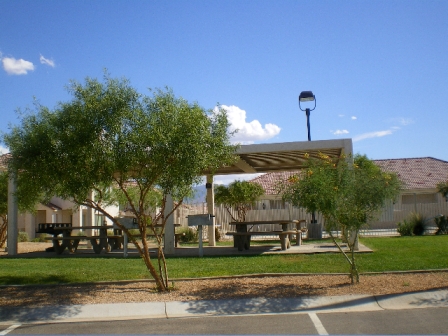 5. The Springs. (6 under 100k) The springs are nice, newer condos for sale in Mesquite NV. They were built in 2007 and all have garages.They are located near the intersection of Mesquite Blvd. and Riverside Rd. These condos are unique to Mesquite because of the design. They are 2 story condos, however, living space is always put over a garage or the condo itself is two levels. This way you never have someone living over or below you. I guess they may live above your garage… but it is still a good idea in my book. The Springs prices have dropped due to the fact that many lenders can not do loans in this community. If you have cash or are re-financing a home in another area to buy here, this would be a great place to look. Many were purchased by investors and never lived in or used seldom. There is a community pool, picnic area and club house. The HOA is $150 per month and includes a single HOA only, yard maintenance, road maintenance, club house, common areas, pool & hot tub,  sewer, trash, property insurance, and management. Condos in the Springs are selling from $82,500 and up. They are 975 sq.ft. and 1130 sq.ft. Mesquite MLS # 1109593, 1109571, 1109479, 1109653, 1109668, 1109079.
We hope this helps you learn about Mesquite condos. Any member of the Mesquite Real Estate Team would be happy to show you any of these condos at your convenience.
Article written by the Mesquite Real Estate Team from Bowler Realty. Bowler Realty is licensed in Nevada and Arizona. Thanks for using a local Mesquite Realtor.