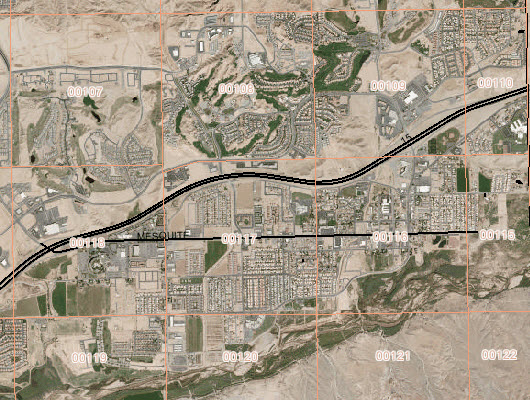 Wondering how far to Mesquite Nevada? Well you came to the right page.
Mesquite Nevada is very centrally located in the Southwestern United States. We are are a half day drive from many of the major Cities in the West.
Highway Distance(in miles):
Albuquerque New Mexico….580
Boise Idaho …………..483
Denver Colorado………..675
Las Vegas Nevada……….80
Los Angeles California….370
Phoenix Arizona………..360
St. George Utah………..37
Salt Lake City Utah…….345
San Francisco California..720
With Mesquite Nevada being built just off of Interstate 15 ( I-15) it is very centrally located.  Interstate 15  goes from Montana all the way to southern California. Interstate 15 is the fourth longest north-south transcontinental Interstate highway in the United States.  It also passes through nearby Las Vegas.
In Mesquite Nevada many people talk about homes being north or south of Interstate 15.  So how does that work with Interstate 15 going from north to south? Easy, as Interstate 15  goes through Mesquite it appears much more horizontal than vertical. On the north side of Mesquite is where there are more Home Owners Association's (HOA's) and most of the local Golf Courses. The southern part of Mesquite Nevada generally have more homes with no HOA's. Many of the homes are a few years older than similar homes on the northern section of Interstate 15.
This article was written by the Mesquite Real Estate Team from Bowler Realty. Bowler Realty is located in Mesquite Nevada and provides free access to the Mesquite MLS.