Mesquite NV Real Estate
A most every major city in the US has its own motto or slogan. Mesquite Nevada is no exception. The Las Vegas Convention and Visitors Authority website's catchphrase for Mesquite NV is "Escape momentarily." This slogan just doesn't seem to be adequate. If you come to visit this exciting Nevada resort and retirement community, you will want to stay here longer than a moment. You even might end up purchasing Mesquite NV real estate
In fact, Mesquite NV homes provide a nice sunny spot during the winter months for many of our Mesquite NV real estate owners. You may even want to turn your Mesquite condo or single family home into a year-round haven. There are even people that live in Las Vegas that choose to get out of the "rat race" and relocate 80 miles north to Mesquite Nevada.
Mesquite NV is a premier southwest resort and retirement community. There is always something new going on and nearly everybody here is from somewhere else. Join the modern day migration to the West and claim you some Mesquite NV real estate. Why not just throw away that snow shovel? In fact, you can even put your lawnmower up for sale on Craigslist while you are at it. Southern Nevada doesn't get those harsh winters. Matter of fact we don't even have snow! Let's face it; you would be better off buying some sunny Mesquite NV real estate were winter days average 60 degrees. With 330 days of sunshine every day is a beautiful day. Combine that with the low traffic and low crime and a wonderful small town feel, you can start to get an idea of the magic of Mesquite NV.  Did I mention we have GOLF year round! Mesquite  NV is a mecca for many sporting events and other activities as well. If you want an exciting and carefree lifestyle, check out a Mesquite Nevada 55+ community. We have numerous active adult communities to choose from… Come for a Visit and Stay for a Lifetime.
Watch a Quick Video about Mesquite.
(ABOVE) Mesquite Nevada Homes  video runs about 4½mins and is courtesy of the Mesquite Real Estate Association (MREA) and others.
This sunny winter resort and retirement community is nestled in the beautiful valley of the Virgin River, a tributary to the Colorado River. Mesquite Nevada has picture-postcard landscape is ideal for all sorts of sports ranging from skydiving to mountain climbing to ATV's. This is also your gateway to visit some of the world's most spectacular landscapes and archeological sites.Using Mesquite as your base camp,  it will put you in close proximity to twelve national monuments, nine national parks, six national forests, and plenty of state parks. Everything is within a day's drive. Mesquite Nevada makes a convenient departure point for trips to Zion, Valley of Fire State Park, and Grand Canyon National Parks.
It's a Great Time for Buying Mesquite Nevada Homes!
It's no secret that the Mesquite NV real estate market is sharply slanted toward home buyers. But don't dawdle, our Mesquite Real Estate Team has knowledgeable real estate professionals specializing in Mesquite NV real estate listings and sales to you help find your Southern Nevada Home. Rates are outrageously low right now, the inventory is large and diverse, and the prices are good. Combine that with fast city growth, and you might just be in the middle of real estate frenzy. Every market is different, and every market changes. Mesquite NV is no different from the others. Whether you are looking for a primary and seasonal home, or an investment in Mesquite NV condos and townhomes, home ownership is still one of the best long-term investments you can make. Savvy investors already know this; they are scooping up Mesquite NV foreclosures and short-sale property listings at a brisk pace. They know what kind of impact that booms in Las Vegas and St. George Utah can have on this market. They also know that Mesquite  real estate follows a master plan, and is mostly made up of planned communities. The careful city planning helps support the value of these real estate investments.
Mesquite NV has a lot more to offer than real estate. It is home to some of the nicest people, and they come from all over the US and Canada because they choose to! The City of Mesquite and this area boasts top-notch municipal services and has an elementary, middle and high school along with a branch of the Community College of Southern Nevada. Medical needs are served by the Mesa View Regional Hospital, a state-of-the art critical access facility that services Southern Nevada communities like Moapa and Virgin River Valleys, as well as the Arizona Strip area.
Play Here and Stay Here!
The city was originally just a small settlement consisting of Mormon farmers.  Some of these families are still around and have made a fortune from Mesquite NV real estate.  When the Peppermill Casino was opened in 1970's, Mesquite began to grow and in the mid 1990's the real estate boom dotted the area with all of the casinos and desert golf resorts that are currently the primary fuel for city's diversified economy. Mesquite NV homes comprised of mostly planned unit subdivisions replaced the farmers fields and Mesquite NV was off. The community turned into a getaway spot for Las Vegas residents, and a more relaxed vacation area for out-of-state visitors and "snowbirds." Today, Mesquite Nevada has a population of about 20,000, and is the fastest growing city in the state.
Mesquite NV home owners have no shortage of dining, entertainment, and recreational opportunities. There is a casino and golf course for every taste and level of play. This may be a "retirement" community, but the gaming and recreational activity never stops. The favorite spot for the locals is the Eureka Casino, well known for fine dining at Gregory's restaurant. The Virgin River Casino sports a country-western theme, and offers bingo, bowling, plus live country music and dancing.This is a great place to go kick your boots up after a long day looking at Mesquite NV real estate. This is also the only place in Mesquite Nevada where get a great prime rib dinner for under six dollars!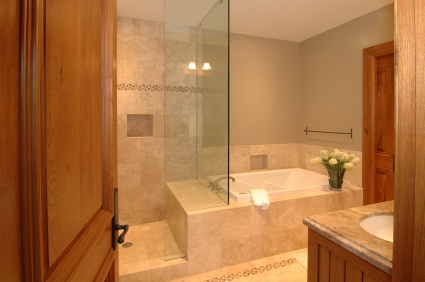 Mesquite NV is becoming one of the best-known golf meccas, and is home to spectacular Wolf Creek golf course. Wolf Creek golf course is situated  on a premier piece of real estate northwest of Mesquite, and has received accolades from publications like Golf Week Magazine and Golf Digest. In spring of 2010 we welcomed our newest golf course located in Sun City Mesquite. The Conestoga Golf Course was designed by Gary Panks and managed by Troon Golf  is quickly becoming a favorite of local residents.
Mesquite Nevada Homes on Golf Courses
The Oasis Golf Club has become a favorite stop for  residents and  visitors alike that come to Mesquite NV. There are three magnificent golf courses nearby including the masterpiece main course called the Palmer Course which was designed by Arnold Palmer. If you are in the market for Mesquite NV real estate on a golf course, this is the right place to start your search. There is an eclectic mix of golf course home inventory for you to explore. Browse Mesquite homes built along the the Falcon Ridge Golf Course by Advanced Construction, one of the most prestigious and respected real estate home builders in Mesquite. The Mesquite Vistas association offers single family golf course homes with price ranges from the $200,000's to $1.5 million. Condos along the golf course include the Rock Springs Condos selling for about $60,000 to $100,000.
The Casablanca Casino luxury resort claims the nicest rooms in town and fine dining at Kathryn's restaurant. This is a top-choice spot for those who are looking for an outstanding pool and a posh spa and don't want to drive to Las Vegas. This is not as big as what you might find in Las Vegas either, however what it lacks in size it makes up for in hospitality and charm. Some notable  Mesquite NV real estate close by is Sunset Greens homes and townhomes. These Mesquite NV homes  sit along the Casablanca golf course and offers some of the nicest townhomes that Mesquite NV real estate has to offer. This  neighborhood of Sunset Greens has about 700 townhomes, with about two dozen homes.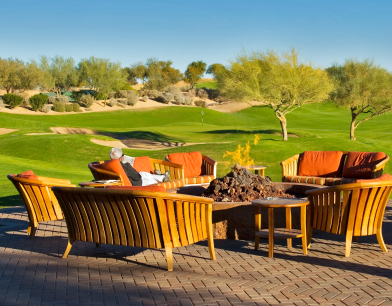 Our Mesquite NV real estate market always has something new and exciting to offer. The newest golf course is called Conestoga, and opened in January 2010. This is a great looking course! There are already over 1,000 newly built Mesquite NV homes in Sun City Mesquite. This real estate is owned and developed by Pulte homes under there Dell Webb name. You may have heard of Del Webb before as they have built over 200 communities throughout the county. May of these homes have been built in the other southern Nevada areas like Las Vegas. There is an estimated 3700 Mesquite NV homes that are slated for construction in the Sun City Mesquite project.
The Mesquite Nevada MLS
For the Mesquite NV real estate market we have our own Mesquite MLS. This is a different MLS system than Las Vegas NV and other surrounding areas.  The Mesquite MLS is just for Mesquite NV area.  There is good resale history for real estate in Mesquite Nevada. Best of all, with Mesquite NV homes there is  enough real estate here for everyone, in all styles and price ranges.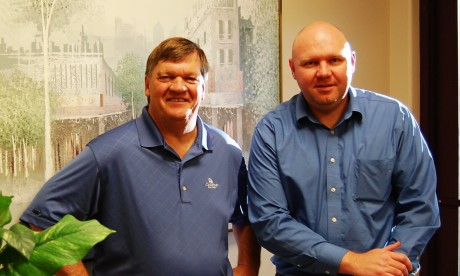 Buck Schaeffel, Owner & Brandon Park, Broker
Your Full Service Mesquite Real Estate Agency.
With so many choices available on the Mesquite MLS system, it is hard to know where to begin. This is where a seasoned Mesquite Nevada REALTOR is helpful. At Mesquite Realty, our goal is to provide you with the best  real estate information available so you can make the best possible decisions. We know the community, and we know the market. We follow the Mesquite NV homes and real estate for sale and can help match our inventory of real estate with what suits your family's needs. Your best interests are our interests. We want you to be happy with your Mesquite NV real estate purchase, and we want you to enjoy living here as much as we do. Who knows? We might even be neighbors!
If you want to see Mesquite NV real estate for sale… you came to the right place. Mesquite NV homes and condos is what we do best!